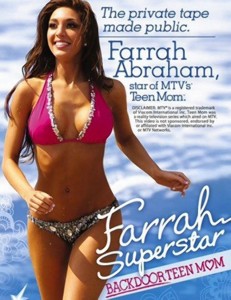 From MTV's Teen Mom to Backdoor Squirting Milf Porn Star.  You saw how she raised her child, now you can see how she makes them. Farrah Abraham released her sex tape via Vivid for sell and download, the same company that released Pamela Anderson and Tommy Lee (Pam and Tommy), Jimi Hendrix, Kim Kardashian, WWE Diva Chyna, and a number of other B / C / D level celebs that can only get your attention by fucking each other's brains out on camera…
… the same way we do!
I'm not mad at you Farrah, sex is beautiful, and doing it the way you do it is even more beautiful.   Co-star / porn actor James Deen has openly said that recording this video was just another day in the office for him.  Any claims of this being a "private" sex tape is false, as it was purposely recorded in home video fashion to create more interest.    Farrah, no need to pretend it's a home video, just tell everyone you take it in the ass and squirt all over the room, that's all the buzz you need.
Farrah Abraham just went from the most annoying D level reality star / teen mom on earth, to now just a somewhat slightly annoying milf with A level porn skills.  Her new large breasts and open-attitude towards anal sex definitely puts her a lot higher in my book.  Although her oral skills need work,  her anal, ass to mouth, ass to pussy then back to ass then back to pussy then back to mouth,  and squirting techniques will make even the most uptight executive at Viacom proud.  Good find MTV!  Your casting director and talent scouts need raises for sure.
Vivid's synopsis:
"From Iowa cheerleader to MTV Teen Mom star, midwest beauty Farrah Abraham breaks free with her most daring video ever, Farrah Superstar: Backdoor Teen Mom. Made originally as a personal 'boudoir' tape, Farrah decided to release the video to her fans due to overwhelming response once news of the tape became public for download. Shockingly explicit, she takes James Deen as you'd never imagine, in a backdoor scene you'll never forget. With her tight young body and totally uninhibited sexuality, it's no wonder why she wanted to capture this moment in time. And now you can too!" 
1 poor, 2 fair, 3 average, 4 good, 5 excellent
Venice's Review:
Quality: 4
Entertainment Value: 4
Star Factor: 4.5
Skill Level: 3.5
The Woman: 4
The Man: 3
Sexual Value: 5
This is what I know about MTV's "Teen Mom" star, Farrah Abraham: she has mommy issues, she had a boob job during the taping of the show, she proved her deceased former boyfriend was her baby's daddy, and she cries a whole damn lot and in a very fake, whiny way.  It was for these reasons alone I could not see this sex tape in any other light.  Now that I got that out of the way…
They successfully followed the porn intro formula of talking to the audience of feigning the act of being an actual boyfriend and girlfriend couple: her calling him baby, her telling him she went lingering shopping with her friend, etc.  This was supposed to be a "homemade porn," thus the sweet talk and the talk about her daily routine.  But even before I was privy to that bit of information, I wondered why the label on her water bottle was removed and the brand names of the shampoos were blurred in the shower scene.  Little things.
I will hand it to her though, great job on letting the audience know that she immediately wants it in her ass, even though she has never taken it up the ass before.  I know for a fact porn stars get paid more if they agree to anal, swallow, and to get fucked in multiple holes, and she made sure she did all of it.  Maybe she wanted to do it all because this may be the only time she makes a porn.  Maybe not.  Either way, she has established herself as the Vavenice Williams of all the "Teen Mom" stars, past, present, and future.
Compared to other celebrities who've made sex tapes (homemade or otherwise), her bedroom talk  and enthusiasm was closest to that of a professional porn star.  I believe this is probably her strongest point second only to taking James Deen's dick back and forth between all her holes.  Visually, this is an absolute turn on.  Her dick sucking skills were kind of ehh, but she made up for it by changing positions and swallowing his cum at the end.
Notice the strategically placed TV with the clock screensaver?  I'm sure it served a purpose at first, but as the video progresses, he has to pick up the camera and maneuver it to give the viewers the best view as possible.  If Farrah Abraham does indeed decide to do another porn, I'm not sure if she can top this one.
Ryan's Review:
Quality: 4
Entertainment Value:4
Star Factor: 3
Skill Level: 4
The Woman: 4
The Man: 4
Sexual Value: 5
What can I say, Farrah Abraham can really fuck.  Well, I guess that isn't entirely true.  How about, Farrah Abraham can really get fucked.    Although the quality of the camera and video itself was really good, the 'pretend' home video style left a little to be desired when it came to camera angles.   Also, the solo stuff really does nothing for me, but I do understand why they included it.  It's almost like porn filler.
This video contains three basic scenes, the solo shower, the afternoon fuck session with a porn star, and the ride in a limo afterwards where they decide to stick 8 fingers (two hands) inside of Farrah Abraham for fun.   Yippy!
The shower and limo ride for me was basic fast forward material.  Some may like it, but I really care less about scenes like this.  The fake dialogue is more funny than sexual.  I guess the limo scene is somewhat exciting, being that she still acts shy and almost like she doesn't want to expose herself to James Deen, who is holding the camera.  Then they stick 8 fingers inside of her and she starts stuffing a dildo up her asshole.
The afternoon sex session is the meat and bones of this sex tape / porn.  Although Farrah has no meat, her slender frame has an amazing ass with amazing breasts to match.  She doesn't really show much skill giving a blow job, as past sex tape stars have her beat in this area, her open mind to letting James Deen do whatever he wants to her is the selling point here.  She begs for it in the ass before they even start.  It seems as though she was more excited to take his dick in her ass than her pussy or mouth.   She also has no problem going from ass to pussy, which James Deen does numerous times during this film.  She also has no problem going from ass to mouth.  Unless the editing is so slick you miss the time lapse, Farrah Abraham is no holds barred with James Deen.  Of course, the entire scene is filmed like a home video, so the camera picks a spot and until they move the camera, you only see one angle.  They do pick an amazing spot against the wall where you can see Farrah's legs lifted up, her fat ass showing, and a close up of her squirting while James Deen gives her a proper rumping.  Overall, this is the way a fake sex tape should look.  Ray J, take notes.
Below is a preview that we did not upload, do not host, and have nothing to do with other than a simple Google search and embed.