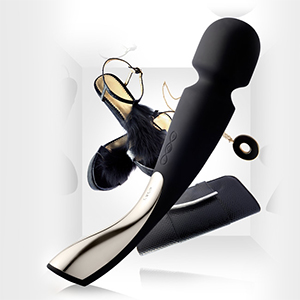 Is there any vibrator that can match the Hitachi Magic Wand? This is probably the biggest challenge known to vibrators. No matter what design the sex industry comes up with, nothing can really come close to the vibrator that changed dresser drawers forever. Instead of the double AA battery powered, vanilla colored, tiny penis shaped vibrator that every woman used to hide in her panties drawer (you are lucky if you didn't live this era of vibratordom), women have now added a back massager named Hitachi to their bedrooms. No longer did our vibrators have to be hidden in dressers, because the Hitachi Wand was a double agent, and could also pose as a simple back massager. Although everyone knew what it was really for, the idea that there is a small possibility that it could be used for a bad back, kept everyone happy and quiet. It also wasn't shaped like a small penis. And as we all know, nothing shaped like a small penis, including a small penis, is any good.
So has LELO found a replacement for our double agent? I guess that depends on if your friends will believe you own a back massager that looks like it was designed for a queen. The Smart Wand ™ is gorgeous. The problem is, I'd be pissed off if I caught Ryan in the room trying to massage his back with it!
<Back Massager Nazi> NO BACK MASSAGER FOR YOU!