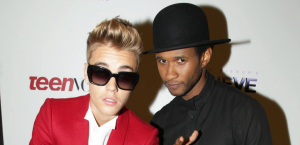 Usher is great. I like Usher. I don't like him like him, but I like Usher. In the way I like Olive Garden: I don't willingly and actively dine there on a regular basis and it's not my favorite restaurant, but if we go there for an office luncheon, it's pretty dang good.
One of my favorite Usher songs is "Good Kisser." It's a pretty innocent title. If my seven-year-old nephew were to sing it in a falsetto voice, I'd think he was pretty dang adorable. But as I played the 50 songs on my "most played tracks" playlist, this song was around song #28. Good kisser, eh? This song is not about people kissing. I really, truly think it's about sucking cock.
I done been around the world, I done kissed a lot of girls […] and I bet a million dollars don't nobody kiss it like you.
He's telling us that he's had a lot of girlfriends in the past (what a whore). And because of this, we're led to believe that he is a great candidate, if not THE leading authority, for male promiscuity. When you've "been around the world" like he has, it's hard to question him. So he's "kissed a lot of girls," a.k.a. got his dick sucked by them. But now that he's with his current girlfriend, he is paying homage to her cut-above-the-rest dick sucking skills. That's how it should be. Never put an ex or anyone in the past on a pedestal.
The devil is a lie, Them other girls can't compete with mine.
The devil represents the collective women before her and the experiences with them. She's self-conscious about competing with not just one of them, but all of them. But he's quick to say they cannot compete with her:
You do it so good, you fuck my mind.
Continue Reading Song Lyrics Meaning – "Good Kisser" by Usher