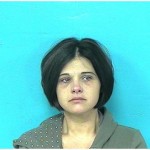 A real sucker for a good deal.
On March 20, 2013, Crystal Frantzen, 28, was spotted performing oral sex on 58-year-old Gary Tipton in public "in exchange for a better deal" on a Cadillac she wanted to buy from him, according to a Sullivan County, Tenn. Sheriff's report obtained by the Smoking Gun.
 Dispatchers received complaints of indecent exposure at a BP gas station parking lot in Blountville, Tennessee.
 The act was allegedly taking place inside the very car that Tipton was trying to sell, according to the Times News.
 When Frantzen allegedly confessed, she never specified exactly what price she was hoping to get out of the oral agreement.   She apparently agreed to give Gary Tipton a blow job in hopes he would throw in some free floor mats or a spare tire.
 Frantzen was charged with prostitution, while Tipton, who also was in possession of valium, was charged with patronizing a prostitute and drug possession. Both have been released on bond.
Source: Times News